Yarn Quality at the Highest Level with Suessen Top Weighting Arms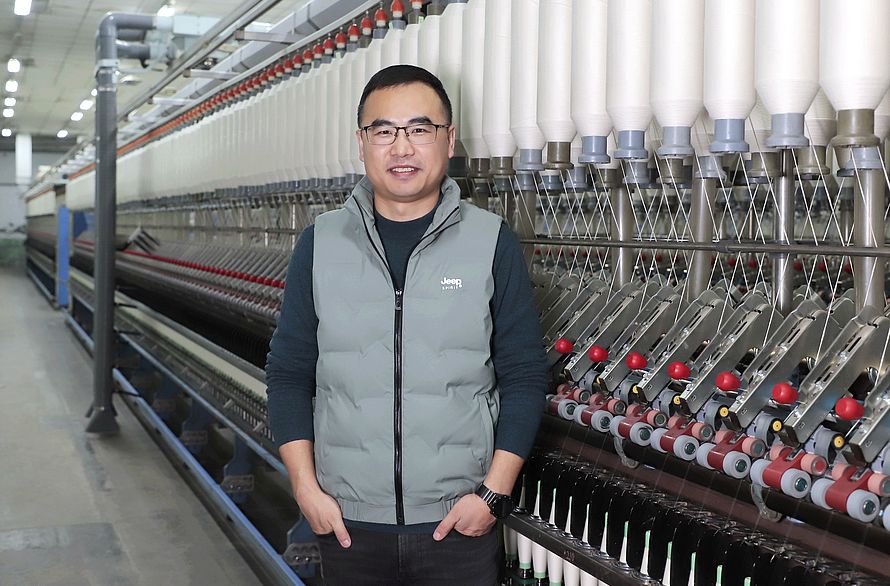 Sanyang Textile Co. is one of the most influential spinning players in China. The company located in Lijin County, Dongying city, Shandong province, has a compact-spinning capacity of nearly 400 000 spindles, producing yarn count from Ne 40 to Ne 140. For more than ten years, Sanyang counts on Suessen and its proven top weighting arms to ensure a yarn quality at the highest level.
The Challenge
Sanyang has been using coil spring top weighting arms on their compact-spinning machines for years. Over time, the company witnessed higher yarn end breaks which did not match anymore the high standard of Sanyang. In addition, the maintenance requirements increased which negatively impacted labor capacity. Sanyang worked with Suessen in order to enhance the premium yarn quality which is the company's hallmark.
The Solution
The top weighting arm HP-GX 3010 is a proven solution, widely used in spinning mills worldwide. The high-quality leaf spring guarantees a pressure which remains constant, even after years of operation. As a result, a stable yarn quality is achieved. This constant pressure also ensures a large roving twist coefficient and normal drafting under high temperatures and humidity and allows the amount of yarn breakage to be significantly reduced. Besides, the Suessen HP-GX 3010 requires almost no maintenance after installation and the customer does not need to adjust any parameter setting when changing raw material or yarn count. This makes a big difference when it comes to labor management.
The Customer's Benefits
The HP-GX 3010 delivered as promised: within short, the yarn quality improved and the yarn breakage was reduced. After years of use, the pressure has hardly changed and no maintenance was necessary. The customer, satisfied with the results, further invested and equipped another 200 000 spindles on its compact-spinning machine producing yarn counts Ne 40 to Ne 140 with the Suessen top weighting arm HP-GX 3010.
From early-stage communication to product trial and evaluation, to the installation and service, Suessen and its HP-GX 3010 top weighting arm proved to be the right choice for us. We are deeply impressed by the dedication and professionalism of Suessen's technology and service team.Li Dasong, Vice General Manager of Sanyang Textile Co., Ltd
Sanyang Textile Co., Ltd.
NO.106, Liqi Rd. Lijin County
Dongying City
China